To carry out the tests, we diluted glyphosate concentrate into water to create a 2ppm solution (two parts per million, or 2 ug / ml). This solution was then poured through all the water filters and the resulting water was collected and labeled. Before this, every water filter was thoroughly rinsed with clean, laboratory-grade purified water to flush their filters.
The resulting "filtered" glyphosate water was then analyzed using a high-end Waters triple quad mass spec instrument (LC-MS-MS), against a multi-point curve to quantitate the concentration of glyphosate remaining in the post-filtered water. (The video above shows the actual screen shots of the chromatography and mass spectrometry.)
Sports Bottles
Seychelle - Sports Bottle A
52.9%
Seychelle - Canteen Bottle D
33.7%
Seychelle - Sports Bottle B
30.8%
Seychelle - Sports Bottle C
21.6%
Water Pitchers
Seychelle - pH2O Pure
39.1%
Gravity Filters
Be Ready - Aqua Pail
100%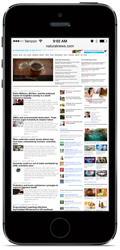 Natural News is now on Diaspora!